16.2.

Inference for the True Slope#

Our simulations show that if the regression model holds and the sample size is large, then the regression line is likely to be close to the true line. This allows us to estimate the slope of the true line.

We will use our familiar sample of mothers and their newborn babies to develop a method of estimating the slope of the true line. First, let's see if we believe that the regression model is an appropriate set of assumptions for describing the relation between birth weight and the number of gestational days.
scatter_fit

(

baby

,

 

'Gestational Days'

,

 

'Birth Weight'

)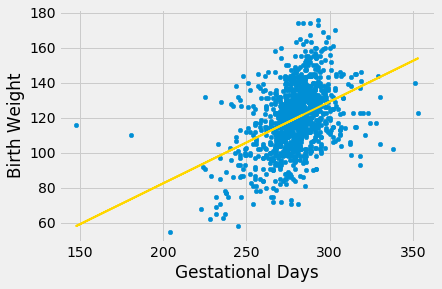 correlation

(

baby

,

 

'Gestational Days'

,

 

'Birth Weight'

)



By and large, the scatter looks fairly evenly distributed around the line, though there are some points that are scattered on the outskirts of the main cloud. The correlation is 0.4 and the regression line has a positive slope.
Does this reflect the fact that the true line has a positive slope? To answer this question, let us see if we can estimate the true slope. We certainly have one estimate of it: the slope of our regression line. That's about 0.47 ounces per day.
slope

(

baby

,

 

'Gestational Days'

,

 

'Birth Weight'

)



But had the scatter plot come out differently, the regression line would have been different and might have had a different slope. How do we figure out how different the slope might have been?
We need another sample of points, so that we can draw the regression line through the new scatter plot and find its slope. But from where will get another sample?
You have guessed it – we will bootstrap our original sample. That will give us a bootstrapped scatter plot, through which we can draw a regression line.